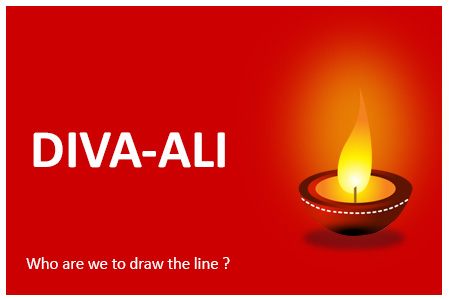 Diva-Ali
DIVA-ALI
                         
Diwali or Deepawali naah!
It's DIVA-ALI from now on, folks.
Yes, we can't think normal & hell yes we will sail against the tides.
DIVA: Every female is a 'Gift of God' & God's most powerful yet elegant creation. 'Diva' is also fondly pronounced in Punjabi for 'Diya': a small clay pot used with oil & cotton to spread light.
ALI: A surname commonly used among our Muslim brothers & sisters, literally, meaning 'High' or 'Elevated'.
Why DIVA- ALI?
Diwali to us is winning of good over evil but is that actually happening except few of us vomiting on social media?
'We are more concerned for cows than our daughters.'
'We have become immune to brotherhood & patronise all Muslims.'
Merely lighting candles or illuminating our hearts with knowledge & compassion is what we have to choose from.
Let's promise to celebrate this DIVA-ALI by lighting the flame of love & respect for every DIVA & ALI in our lives.